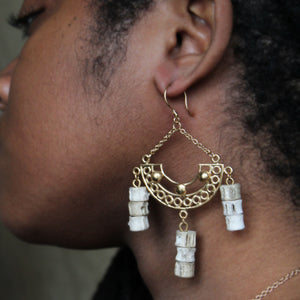 Product Information:

Material: Brass, 14K Gold plate, Fish Vertebrae beads

Earring  Dimensions: 2 1/4" long x 2" wide
Hand fabricated in Chicago

* This item is one-of-a-kind.


Brass, sterling silver and gold plated jewelry are prone to tarnishing if exposed to moisture, water or chemicals (hairspray, lotion, etc) Please remove jewelry prior to showering, exercising, swimming or sleeping. To store your jewelry, wipe dry with a soft cloth and store in a box or ziplock bag.

Order Processing & Shipping + 

Returns, Exchanges & Cancellations + 

Jewelry Care +